African Percussion

Thousands of distinct cultures, each with it's own instruments, rhythms, and dances. The Motherland...
One of the greatest of Mother Africa's gifts to the people of the world is her music. Only a few years ago, we in North America had relatively few examples of African music in its natural state, but now, with the state of video on the Web, African folk music abounds. It is an ethnomusicologist's dream come true. The examples below are but a few of HUNDREDS of relevant audio and video clips. For a hundred more suggestions, see our African You Tube Playlist.
Masai children singing & dancing
Jalamang Camara, Mamady Danfa play Mandinka drums
Ghana
Kwashie Safroh, a Ghanian in germany, playing the kpanlogo..

Nana Yaw playing the 'odurugya' which is the traditional cane flute of the Akan, mixed with footage from the funeral of the Bantamahene Baffour Awuah V. The Red and Black Kete Drums are used in this ceremony. WATCH the video.
Gonjey fiddle music from the Dagomba people, northern Ghana
Luki Bouduan and friends from Gandawi group -
Sissala musicians from Ghana visiting Scotland. It looks cold, and as if they wish they were at home.
VIBRANT YOUTHS OF NGWUO DOING THE TRADITIONAL IGBO DANCE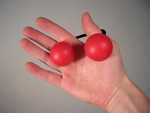 Check out the Kosika, based on a highly portable traditional West African instrument with immense possibilities..great how to videos here.
Don't forget to visit our brand new Djembe Page
French drummer Maarten Schepers [at left] has written a fascinating book applying djembe rhythms and techniques to the drum set. Read about it.
Traditional Musical instruments of Uganda at MusicUganda.com
South Africa:
The YouTube User Bidybi has put a large amount of interesting Lesotho pop music at YouTube. The video portion is mostly just a photo of the CD, but the music has been rare to the world until now, and some of it is really good. Accordian give it an oddly cajunesque tinge, but very African.. Take the time to surf his YouTube channel; it's well worth the trip.
---
Also in this month's
favorite Africa links:

a Record company site, with CDs of Abdoul Doumbia, Mustapha Tettey Addy, Aja Addy, Dudu Tucci, Nyanyo Addo, et al.
---
Drummer and Drum maker shahab has a nice site This site, titled African Drum Beat, is mainly dedicated to West African rhythms from Senegal, Gambia, Ghana, Ivory Coast, Mali, Guinee and particularly rhythms associated with Djembe, Saba, and Kpanlogo drums.

Also, video instruction in Ewe drumming at Kevin O'sullivan's site. Go, Kevin!