Asian Percussion

Video Links
for newcomers to Indian Percussion, here are videos a few different indian percussion instruments
Ustad Allah Rakha & Zakir Hussain
on Tabla
Mahan Shyam, demonstrates dumakita on the Pakhawaj
Sites and articles:
In Japan, the taiko drum speaks volumes:Business writer YURI KAGEYAMA reminisces about her son's love for an ancient Japanese tradition.
SABIR MUSIC - Instructional DVD - Learn Tabla and Harmonium at home [Canda Based]
www.tablaplayer.co.uk - UK based tablaplayer Udit Pankhania's website.
Sitar Maestro Biswabrata Chakrabarti - interesting sound samples here

Check out Beat of India, a wondeful site on Indian folk music.
Thai Classical Musical Instruments a great page, sound samples of Thon Ramana, Glawng That, Ta Phon, Glawng Khaek etc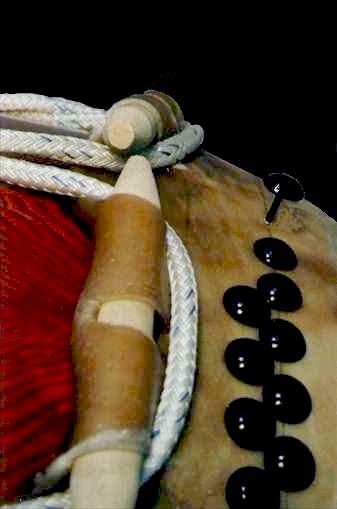 A good resource for lovers of Taiko Drumming is
Rolling Thunder. They have tons of links to Taiko Groups all over the world.
Mochizuki Taiko Drums Handcrafted for the Most Demanding Taikoists completely awesome drums. See this site to believe.
It's becoming obvious that there's too much going on in the asian drumming scene for just one page, so look in the future for separate pages on India, Japan, and Indonesia.
We were sadly lacking in Bhangra pages, and then Lilitu sent us some good ones! Thanks Lilitu!
www.indianmelody.com/bhangra.htm actually, this whole domain is nice, not just the bhangra pages.
Sandip Bhattacharya, a Holland based Indian percussionist, has played with many of the most illustrious musicians in India and with well-known musicians of other cultures arround the world.
The Sandeep Raval multi percussionist Website features instruction information, world grooves, new age and more
Gamelan: Music of Indonesia
Gamelan Son of Lion is a NY city based new music ensemble playing on Indonesian gamelan instruments. Their instruments are half American built and half actual Indonesian gongs, etc.
Bali and Beyond is a group of Los Angeles performing artists inspired by the cultures of Indonesia. an outstanding gamelan resource; pictures, sounds, all about the instruments, everything, really the best gamelan page we've seen...
Best Taiko Video:
Kodo Live at the Acropolis,
Available at amazon