Bongo Drum History
The history of the bongo drums can be traced to the Cuban music styles known as Changüi and Son.
These styles first began to develop in eastern Cuba (Oriente province) in the late 1800's around the time that slavery was abolished. Initially, the bongo had heads which were tacked and tuned with a heat source. By the 1940's metal tuning lugs were developed to facilitate easier tuning. Some of the first recordings of the bongo can be heard performed by the groups Sexteto Habanero, Sexteto Boloņa and Septeto Nacional. These and other early recordings have been reissued on several record labels including Tumbao and Corason.
Video
Changui example 1
The group is the Soneros, from Matanzas. Notice that the bongocero has the big drum on the left side, unlike modern style. Bongos were used before congas or tumbadoras in this type of music.

Changui example 2
(same group)
Mr. Victor "Papo "Sterling, an avid bongocero and OMO AŅA sworn bata player (some of his work can be heard on the Recording "Santissimo" by Emilio Barretto & Orlando "Puntillo" Rios) states: "It's believed that Bongos as we know them today evolved from the Abakua Drum trio "bonko" and it's lead drum "Bonko Enchemi" These drums are still a fundamental part of the Abakua Religion in Cuba, which is still only accessible to the Initiates. Even today, these drums look much like the bongos we know, if they were joined with a wooden peck in the middle."
More research is underway. Can the bongos be traced back to Africa? What is the true relationship between the Afro Cuban bongos and the ceramic Morroccan bongos?
The Bongo Page
devoted to the art of bongo drums, bongo drumming, and bongo drummers..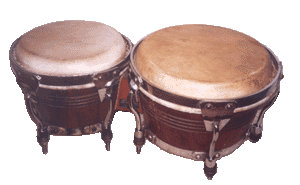 This five key bongo drum was made by the late master bongocero and percussion instrument maker Carlos E. Landaeta (Pan con Queso) also one of the pillars of the Venezuelan group Sonero Clasico del Caribe. Thanks to Ivan Caceres of Puerto Rico for this photo.
Bongo drums are two cylindrical single headed drums, joined in the middle, and normally held between the knees.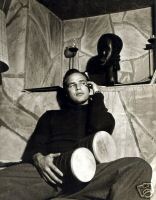 They enjoyed a huge wave of popularity from the nineteen forties through the late fifties and into the early sixties, when bongocero Jack Costanzo became the teacher to a number of Hollywood movie stars, including James Dean and Marlon Brando. Other popular bongoceros at this time included Armando Peraza, and Jose Mangual Sr., among others. for a more complete list of notable bongoceros down through the years, see our List of Bongoceros.
They are most often used these days in a range of popular styles of Latin music known collectively (and a bit misleadingly) as 'Salsa'.
For the casual 21st century multicultural user or drum circle goer, they have not really caught on completely, but they are portable, inexpensive and generally easy to express oneself on. They also project well when tuned up tight. The main impediment to beginners on bongo drums is the learning curve regarding way they are held between the knees. Rather than horizontal pressure, the drums rest on the calves, the drummer squeezing only lightly, to keep them in place. Once you get the hang of it, they are quite comfortable.
Bongoceros | Tuning, Care and Maintenence | The Bongo Books
More recommended VIDEO
These first two at You Tube are the best slow examples of the
Martillo, or hammer, the most basic bongo rhythm:
Jimmy Delgado en El Bongo - One
Jimmy Delgado en El Bongo - Two

Then you can check out Pablo Rosario on Bongos one and two - Es en Espanol, y es verdad que this will give you a good excuse to work on your Spanish. Pablo teaches a great deal in these two free You Tube videos..Great Work, Sr. Rosario! Muchas Gracias!
The Late great Ivan Cacares of Puerto Rico playing bongo.
Ivan was a good friend to Rhythmweb until his untimely death in 2004. We miss him.
Check out our Ivan Cacares tribute page
The bongo drumming scene is JUMPING, up on the Web. A users' group at Yahoo , the Bongo Group, with over a thousand members, was founded by avid bongoceros Zeno Okeanos and Matthew Dubuque, way back in 2001, when Yahoo groups was new. A core of dedicated members have nurtured it with loving care , and now, it is a thousand bongoceros strong. Worth a look..
Of course, Martin Cohen, the founder of LP Percussion, has been right on this scene for decades, and know dozens, if not hundreds of excellent players, so his personal website, CONGAHEAD, is one of the must-see sites for Latin Music.