The Cajon Page
Cajon is gaining in popularity very quickly, across the spectrum of styles, and for good reason; they have a wide and useful variety of tones, are sturdy, portable, and often double as a stool.
The cajon has primarily Peruvian origins, but has also taken root in Cuba, where there has long been a tradition of sitting on the docks playing packing crates. The Cuban Rumba Yambú is traditionally played on cajon rather than conga. Peru has it's own tradition, (listen) and Flamenco music also now uses the Cajon. Flamenco players traditionally played the backs of their guitars on occasion, and cajon can easily be seen as growing from this concept.
Some cajons feature panels which are screwed on, with the corners left loose, to facilitate better and easier slaps. Flamenco cajones sometimes have strings, actual guitar strings, on the inside, to make a resonating sound, not unlike a snare.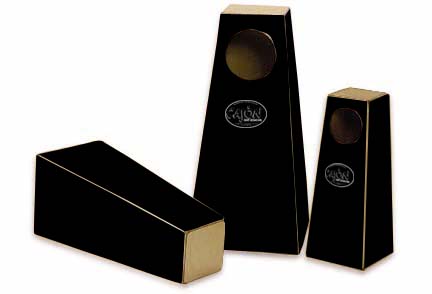 Folks at Fat Congas have been making cajones much longer than most companies.
They make wonderful instruments; we currently own a set of their Cuban style cajones.
They are also the inventors of the original Batajon®, a hybrid Bata-Cajon which has influenced other cajon makers a great deal.
Coming Soon: a review of the
Fat Congas Batajones
& String Cajon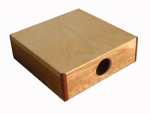 Nowadays folks everywhere are experimenting with the wood ideophone idea, and new variations are appearing left and right. One very practical variation is the lapdrum, extremely portable and rich in tone. Read Rhythmweb's review of the Lapdrum from Slapdrum . Chris Nissen at Slapdrum has also made a full sized cajon that fits across the lap. known as the Slapboxx.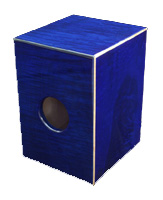 This dude, Michael Kotzen, makes what may be the most beautiful custom instruments I've seen;this gorgeous blue one at left is only the tip of the iceberg. check out his gallery, at www.tonecajon.com .
POPercussion also makes fine cajones.
Sol makes cajones in the shape of congas.
Sela instruments designed and built by Marc West
Drum Warriors makes cajones..
The cajon has also taken off in Japan. Japanese cajon maker Yoshiro Aonuma
has produced over 1500 instruments, and one of his cajones was played in the soundtrack of the movie "finding Nemo"by LA musician Michael G Fisher, who met him on E-Bay! Check out Yoshiro's site in Japanese or in English
A nice page in German, and some very pretty instruments here at Sela Instruments
Another page in German:
www.tres-lados.com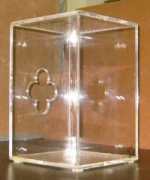 At left: a new experimental plexiglass cajon, being developed by Chino Bolanos and LP; Chino is one of the notable Peruvian folkloric artists at work today.
see more about the Plexicajon and Chino Bolanos
this is an evolving page; more is coming. If you have a Cajon related site, or want to post an article or lesson concerning cajon, please let us know.