Zydeco / Cajun Music
If it's Cajun, Louisiana country blues, Zydeco that you want, Clifton Chenier's the man. See below for recommended CDs and books.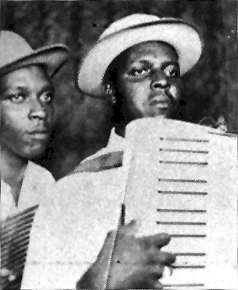 "What I did was to put a little rock'n'roll into the zydeco to mix it up a bit. You see, people been playing zydeco for a long time, old style, like French music. But I was the first one to put the pep to it."
Clifton Chenier
Louisiana in general and the melting pot of New Orleans in particular have exerted a tremendous influence on world music as a whole. Cajun and Zydeco are truly world fusion, and definitely a good ingredient for the pot when thinking of the big picture of world music.
---
---
| | |
| --- | --- |
| | The frottoir is an improved washboard first made by Willie Landry, a master welder/metal fabricator, according to a drawing in the dirt made by Clifton Chenier. Clifton's brother Cleveland was the first to strap the rippled armor plate on his chest in the fashion that all zydeco musicians wear the instrument today. Willie Landry's son, T. Don Landry, is still carrying on the tradition, making and playing the frottoir for various Zydeco heavyweights. |
---