---
Dallas International Festival - November 2002
(All images ©2002 Deb Stuer. Any use on a website or any other medium without express written permission is a violation of applicable law.)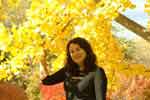 (at left, a shot of the photographer, DEB STUER. thanks Deb.)The Dallas International Festival was held at St. Mark's Episcopal School in Dallas on November 9th and 10th, 2002. There were dozens and dozens of booths from over 50 countries, each offering cultural artifacts, handicrafts, clothing, instruments, information... What a blast. Groups from different countries were performing literally all day, two days in a row. On sunday, I brought my wife, ten year old daughter Nina, and we stayed and made a day of it. The global drum circle was a success, big fun, with folks from all over participating. Thanks to the drummers who showed to make it work: among many others: Suzanna, Mary Ellen, Hap, Hadi, Kent, Todd, Phil, C.W., Kwasi, and the many families from all over the globe who came to the circle to play. Special thanks to Suzanna for putting it together.
The thumbnails link to bigger pics. hold your mouse over the picture to see a comment on it, and click for a bigger image. (Use the back button on your browser to get back to this page..)
With 35% of North Texas residents being first or second generation immigrants to this country, Dallas indeed deserves the label "International City." Such diversity, however, brings many challenges as well as benefits. Dallas International is a coalition of over 1,600 civic, educational and religious organizations established as a means for bringing these groups together for the enrichment of the entire community.
The Mission of Dallas International is to promote and coordinate North Texas ethnic and immigrant groups, empowering them as respected members of the community and giving them a forum through which to express, share and celebrate the richness of their cultural heritages.
Remember to visit DallasInternational.com.
This page © 1996-2002 Eric Stuer All rights reserved
RHYTHM WEB™; and RHYTHMWEB™;
are trademarks, and any unauthorized use of the names is a violation of applicable law.