Tumbadoras, conga drums as we know them in the USA, are from Cuba, with roots in the cylindrical drums of Africa.
Cuba gave them their modern look. According to percussionist Jose Valladares , the modern hardware was first created by the Peraza Brothers.
Many countries have similarly shaped drums, such as the Atabaque of Brazil, the Bomba drums of Puerto Rico, or the solid wood carved Ngoma of central Africa. Now they are rightfully popular all over the world. Help us grow this page into a serious resource. Send us some links.
Percussion scholar Nolan Warden has done a fine history of the conga drum.
---
Best Instructional materials for Conga drumming:
These are the best two videos to start with. Bobby knows what he's talking bout. As you develop, classic and very useful videos are Conga Virtuoso - by Giovanni Hidalgo, and Conga Masters, a short series of duets with Giovanni Hidalgo and Changuito. If you've never seen these gentlemen play, it will give you an idea of what can be done on the instrument.
Anga Mania!
Percussion Video of the Year - DRUM! Magazine Readers Poll 2000!

Featuring the young lion, Cuban percussionist Miguel "Anga" Diaz of the AfroCuban AllStars, Irakere, Gonzalo Rubalcaba, Ruben Gonzales, Roy Hargrove, Steve Coleman, Danilo Perez, John Patitucci, Orishas... Known for his explosive soloing and ground-breaking style, Cuban born Anga represents the future of conga playing. Now you can learn his techniques from this unique video-masterclass! This video is way bad..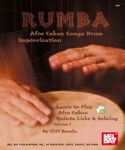 Another good choice for those wanting the authentic quinto soloing technique is
the book, 'Rumba - Afro Cuban Conga Drum Improvisation', by Cliff Brooks. Useful for Guaguanco, Columbia, Yambu, Rumbas del Tiempo de Espana, and more, this book delves into the art of soloing.
Much more is available at Cliff's website, at http://afrocubanchops.com .
---