Eliana Gilad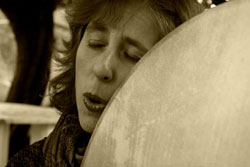 As War rages on, Musicians wage peace.
and music...
We are very proud of our friend Eliana.
Listen to healing Lullaby Music
Eliana specializes in frame drumming, and has for some time been operating a healing music center in the Galilee, which as of now (2006) is in the middle of the war zone..
She has a blog of her daily activities HERE. Eliana will be visiting the USA, New York City specifically, in September of this year to share some of her healing music techniques and so on. Read more about her activities at her website , VoicesofEden.com
We met Eliana Gilad here on the Web during the fall of 2000. The intifada in Palestine/Israel had just begun, and she wrote us a letter which illuminated the situation there a bit; not what you'd see on CNN, I might add.. The letter was dated October 7, 2000. Read Eliana's letter.
She has been coming back and forth to the US, doing concerts and healing music workshops. Her first "Peace Tour" trip to the US began on 9/10/2001, the day before the WTC disaster. Upon her return to Israel, she wrote to us, on 12/4/2001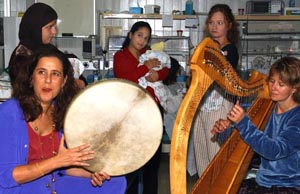 She then began to work with her drum and voice in the neo-natal ward of Meir Hospital in Kfar Saba Israel, for Arab and Jewish babies alike. In the photo at right, they are working in the Intensive Care Unit.)
In many of her endeavors, her usual collegue is a Palestinian. Please read this memoir of the experience, written to the members of the Yahoo FrameDrummers group back in February of 2002.
She has gone through some trying times. Read this excerpt from her letter of 4/05/02
Eliana has recently finished second tour to the U.S. (April and May 2002) , dubbed the Peace Tour.
Click here to read her message of May 2002, written upon her return to Israel..
To us, Eliana represents the best in humans, the indomitability of the human spirit..Go, girl..
Her website is at Voices of Eden dot com It's definitely worth a visit.