Hands OnSemble and Brahmah gave an incredible performance at the Bathhouse Cultural Center in Dallas on 4/17/05 with special guests Brad Dutz and Poovalur Sriji, and we were there to get pictures. (Mr. Bergamo has largely stopped touring with the group, although he is still considered a member.) [Below: Andrew Grueschow, Randy Gloss and Austin Wrinkle of Hands OnSemble..]
Click here to see all the photos from the event.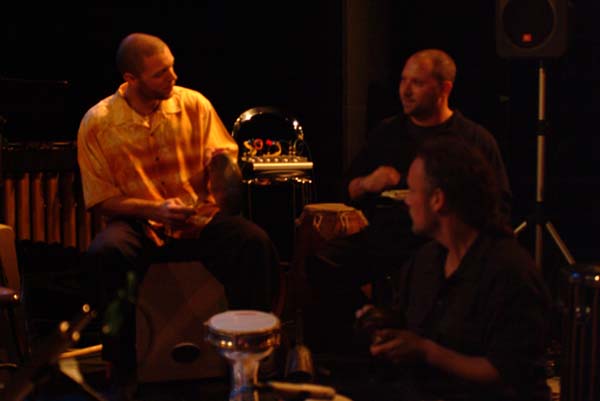 The level
of musicianship and spontaneous interaction was truly astounding. Percussion instruments deftly used included tar, riq, daf,pandeiro,bodhran and kanjira, Egyptian and Turkish goblet drums,djembe, sogo, conga, berimbau, zabumba, batajones, vibraphone andmarimba, along with a large array of Indonesian pitched and unpitchedinstruments. Brad Dutz brought along an unusual GLASS marimba and aseries of tuned ceramic bowls, and Randy Gloss used the high octave of the Paiste tuned gongs. The mallet playing was adept and highly spirited throughout the evening.. Of course, Poovalur brought & played his mridanga, but he also played a fascinating rig consisting of a Contemporanea rebolo and an LPcompact conga, arranged so that he could approach them as one would a mridanga. Here is a picture of the rig I am describing
Jamal played a rig which included various Turkish, Egyptian and African goblet shaped drums, a wood block and cymbals, and at one point was playing the goblet drums with a brush and the ride cymbal with a stick.. he also used a white Mid-East narrow neck ceramic, from what I could tell.. Austin Wrinkle played very capably on darabouka and tabla among other things, and Andrew Grueschow was having so much fun with the zabumba that I am tempted to go and buy one..it is safe to say that Randy Gloss has pretty much mastered the pandeiro..:-)What a night..they did a workshop at SMU the following day. Click here to see all the photos from the event.