Rhythmweb main kids programs page | Rhythmweb home
Stu & Len -
The DRUM GUYS
At left: photo of Stu and Len courtesy of The Colony Library summer 2002
STU and LEN are two good friends, both longtime professional musicians, who just LOVE drums and rhythms from around the world, and they have big fun sharing this with others. They have been doing programs together since 1997, and bring many years of performance and teaching experience to each show.
They realize that when they are dealing with kids, its all about FUN, to best let the learning happen. The pace is brisk. No long lectures here. They pack a few props you don't normally see, too, and depending upon the age and temperament of the audience, they throw them into the mix: funny hats, hula hoops, creepy sound effects, bubba teeth; hulk heads, giant eggs; you never know what you will see next when you go see the Drum Guys... They might corner the kids' favorite teacher or librarian, put a goofy hat and sunglasses on her, hand her a talking drum, and tell her she's about to get a call on her African cell phone..not to hang up..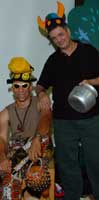 Stu tells about the 'Drum Guys' summer library program: "Basically we bring a big batch of drums from all over the world: Africa, Brazil, Latin America, Egypt and Pakistan and India and China, and so on. We bring frame drums, goblet drums, cylinder drums, a big gong; We bring homemade stuff they can make, too, and we show them how to make it."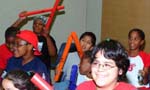 "It's a big interactive show and tell, with volunteers from the audience. It's very informal. We clown around a lot, and there are lots of demonstrations, questions and answers. At the end, we have a question or two for the audience, with book and/or instrument prizes. The finale is a mass jam session with boomwhackers sound tubes for everyone to play.
Some librarians have expressed interest in the "Drum Circle" style format, where we all start in a big circle, and everyone plays from the very beginning. This is also an option; simply mention it when you contact us."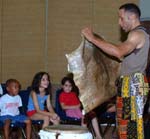 Encouragement to read: About RHYTHMWEB
[At left, Len talks to the kids about the goatskin used to make the Djembe drum.]
The beauty of these presentations is that they are backed up with over 300 pages of online information and hundreds of links to relevent websites, newsgroups, and so on, through RHYTHMWEB. If they are interested in one of the drums we showed them, they need only go to
..and they can continue their journey into percussion by reading about it. It is the same for dozens of major instruments and percussion cultures, from drum circles to gourds to frame drums..you name it, all at their fingertips to read about! Please have a look at the website. Rhythmweb is an integral part of what we are doing.

Some of the libraries having us back again this year have chosen two shows in one day, or two consecutive days. We must be doing SOMETHING right.
"Thanks so much for considering us for your summer program. We hope to hear from you soon."
- Stu and Len -