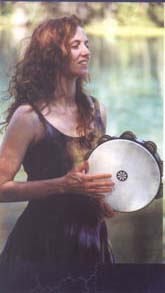 Friends of Rhythmweb:
Layne Redmond
Visit her website: http://LayneRedmond.com
I wish I had a big giant photograph to put up here of Layne Redmond, but she has probably the fewest available photographs of any major percussionist on the Web..
We met her in the Yahoo Frame Drummer group in about 2001, and have since enjoyed corresponding with her on various occassions. Layne has always been very kind to us here at Rhythmweb, supportive of our pupose, friendly and helpful. She is very much into her work, travels extensively, and lately, she has been traveling to Brazil and studying Northern Brazilian musics. It was Layne who turned us on to Bumba Meu Boi, the frame drumming ritual they do in (the state of) Maranhao.
Listen to the Layne Redmond and Tommy Brunjes recording (in Real audio) of
We attended one of their afternoon tamborine drumming workshops when it came through Dallas, and we met up with her briefly at PASIC 2000. Her website is full of recollections from her travels, links, and so on, and her complete collection of works is available there. Definitely worth a visit. She is a member of the FrameDrummer group at Yahoo .