School Programs
This is becoming a habit. This year (2008) will be the fourth annual statewide tour, the 4th year Stu has roamed the State of Texas, introducing folks at Texas libraries to the joy of percussion. This time he will be spending three weeks in Harris County, with trips to Del Rio, Austin, Dripping Springs, Kerrville, Huntsville, and who knows where else? He'll even spend a week in Mississippi, in the Biloxi/Gulfport area, the first week of June..
Stu at Rhythmweb (Eric Stuer) has done HUNDREDS of solo programs, in most major metropolitan areas of Texas, including Houston, Dallas, Fort Worth, Austin, and San Antonio, from McAllen to Wichita Falls and from Jefferson to Hondo.
He brings decades of professional performing experience to his percussion workshops and presentations. In addition, as the contented father of 3, he enjoys working with kids, and it shows..
The Rhythmweb Drum Guy - This program is for all ages (pre-schoolers must be with a parent), and offers an overview of various percussion instruments from the musical traditions of Africa, the Caribbean, Brazil, the U.S. and other places.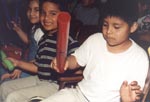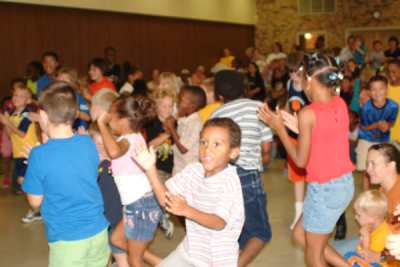 (at left, working with body & vocal sounds in Killeen, 2006.)
The emphasis is on drumming as a universal language, and there is information on the universal principles by which a percussionist coaxes various sounds out of an instrument. It has become more interactive every year, and nowadays we use an electronic looping machine, which gives it a modern flavor that kids immediately sense and appreciate.
The group explores vocal and body percussion, and there's a little bit on homemade instruments. There are also plentiful demonstrations, questions and answers, and audience participation. The finale is usually a mass playing session with the Boomwhackers tubes. "Rhythmweb Drum Guy" has been a favorite with Librarians and school administrators...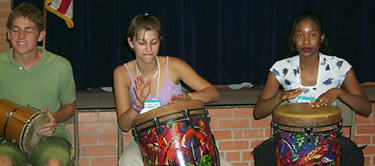 Drum Circles with Eric Stuer - For teen & adult library programs, this often seems the way to go. We set up a big drum circle with an instrument for everyone. It's hands on, right from the very beginning. For groups of uo to 25, more by prior arrangement[extra equipment fee applies]. Previous experience NOT required.