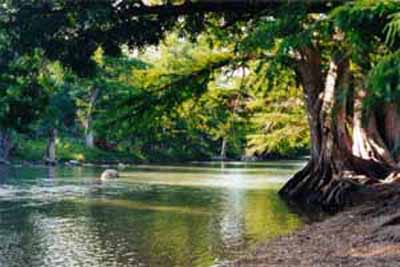 above: Guadalupe River, South of Austin Texas..a river I have tubed in and been cleansed by..
below:..the Lupe River in Cameroon, Africa, home of the Baka Forest People.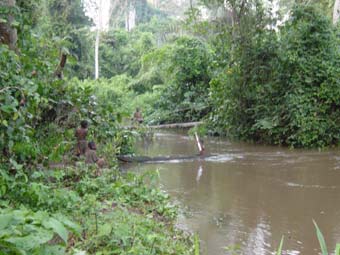 water ritual #6
"...dedicated to the musicians in every land who understand the power of music to heal, to cleanse, like water."
Water Ritual #6 - De Lupe a Guadalupe
Watery places have a natural power. This ritual exists only in Cyberspace. My virtual river is very much like the Guadalupe River, south of Austin Texas...yours may differ.

instrumentation: polycarbonate water bottles, a little yellow polycarbonate home brewing beer keg, sakara drum, 10" tamborine
All the nature and other sound effects were public domain, with the exception of the 2 bar Baka water slapping loop...
This whole piece is inspired by that short loop, taken from a recording of water slapping of the Baka Forest People. You can donate to One Heart, a registered charity, and it will go directly to them. Click to find out more.
©2003 eric stuer all rights reserved