Brazil / S. America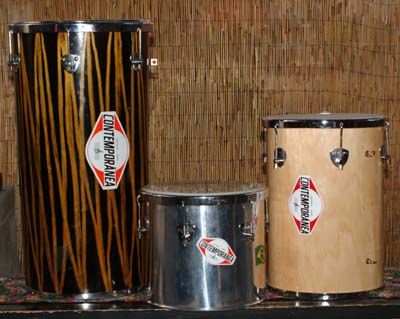 The TanTan Page - Continuing our love affair with Brazilian instruments, we take a look at the history & techniques, the ins and outs of this lightweight beauty with the luxurious low end.
Also Related : Patterns for TanTan - We show you video examples of basic patterns for this exciting instrument, including Samba based patterns, Partido Alto, and a couple of original ways to adapt the drum for use in drum circle and North American pop based applications.
Oxiris - A UK based Samba troupe -
About Jackson Do Pandeiro
More about Jackson Do Pandeiro
About the Afro-blocos in Brazil - Historical
Also very good:
Candombe: all about a rich Afro-Uruguayan rhythmic tradition. Listen to this!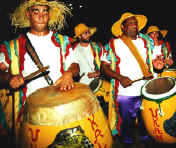 This website is a must see for lovers of South American rhythms. Thanks to Producer Neil Weiss for the link. We're listening to all the CDs now, and reviews are forthcoming, but it's WAY serious rhythm.
Listen to capoeira music from capoeira.com
Visit www.capoeira.com
Percussionist Rafael Pereira was born in Brazil but is
now based in Atlanta GA.
---
Afro-Peruvian Classics: The Soul Of Black Peru
Our favorite album right now.

Lush, beautiful Peruvian music...with a refinement and sophistication like few other musics.
To learn about the rhythm culture of Brazil, one must look into the Art of Capoeira. Capoeira is a form of Martial Art practiced in Brazil, with a spiritual outlook and roots in Africa and Colonial Brazil. It's a fascinating history.

For more, see the
Brief History of Capoeira





Best traditional Capoeira CD:
Capoeira Angola
From Salvador
Brazil