The Doumbek Page
Although this page is named 'The doumbek Page', it is devoted to the goblet shaped drums, by any of the many names given to them around the world.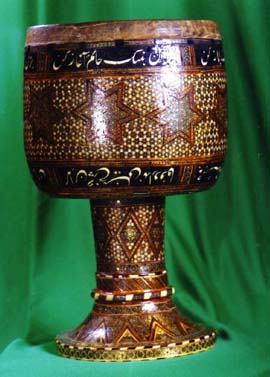 The many names of Goblet drums..
click for a summary.
We love the many goblet shaped drums of the Middle East. Arab, Armenian, Persian, and Turkish music feature them, prominently in bellydance and other musics of the Near and Middle East.
Although we over here in the U.S.A. have mostly seen one type of goblet drum, and most often call these drums 'Doumbek', they are actually different drums, known by a variety of names and spellings, such as tonbak, donbak, Tombak, etc. The combination of deep bass tones and crisp, high tones give the doumbek it's name.
The image of this beautiful khatam tonbak at left is courtesy of Persian musician Peyman Nasehpour.
Portable, not too loud, the doumbek is perfect for some people. We love our doumbeks tonbaks, and Darabukas.
---
Murat Denizkusu's a German musician and a friend of David Kuckermann. Check out his darbuka solo from a recent improvised duo electronic/darbuka gig in a local underground club
Doumbek instructional Resources
Members of the Goblet Drumming Group at Yahoo have recently released resources. Daveed Korup has a textbook with video, Tao Te Drum , and a CD , Rhythm rides for Dumbek, a step by step guide to Middle Eastern rhythms..they are available <HERE>
Kobi Hagoel, percussionist based in ISsrael, also has a new book out, with a great many rhythms charted out..136 pages with 6 CD's..get it here..
Here is a wonderful post by a GDG Group member regarding the difference between certain styles, and how the shape of the drum affects the way it must be approached..
from "From Luxor To Isna" by Musicians of the Nile is a recommended album.
The Tonbak (Zarb)
Made from wood, the Persian tombak, also called the Zarb, is an ancient instrument.
Ostad Hosein Tehrani is widely considered the father of modern Zarb playing. For a brief history of Ostad Tehrani & the Tonbak, click here.
This zarb solo is about 5 minutes long. Tehrani begins calmly (click to listen) , and works his way up to a fever pitch with excellent use of the Zarb's pitch bending and scratching capabilities.
Listen to a 28 second sample of Ostad Farhangfar playing tonbak.
Listen to Ostad Hossain Tehrani, father of modern tonbak.
The Zarb is also known as the tombak and tonbak. Hormoz Dilmaghani, has an excellent site on the tombak, called the
Tombak Network. check it out!
Peyman Nasehpour on the World Wide Web!!!
stu's note: I was fortunate to meet Peyman during the late spring of 2001. He continues to tirelessly promote his music on the World Wide Web, as a moderator of the Goblet Drumming Group and the Indian Tabla group at Yahoo, and an active member of the FrameDrummer group as well...links to his works are at right. Thanks Peyman..Keep it up!
His brother's NEW online drum shop
with
handmade Persian musical instruments
GDG member
Jesse Rogers at Bardic Productions has compiled lists of the manufacturers and retailers of doumbeks abnd other Middle Eastern instruments..
note: we at rhythmweb respect and wish peace to all decent well meaning people, regardless of faith or ethnic background. Hence our use of the Rhythmweb sign,

, once used by the HOPI tribe as a symbol for universal brotherhood. May it someday become a reality..