The Goblet Drumming Group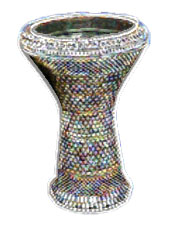 This page is devoted to the work of members of the Goblet Drumming Group at Yahoo. There is now a FAQ for new members.
Members of the GDG have planned to create and release a CD of music. Some of the pieces will be solo percussion pieces, and some with accompaniment, but all will feature goblet shaped drums in the mix .
Audio works of GDG members will be posted here, IN VARIOUS FILE FORMATS, usually either mp3, wma, or rm, with some accompanying text, copyright info, etc. Other works featuring GDG members will also be posted here, with links to the relevant websites.
---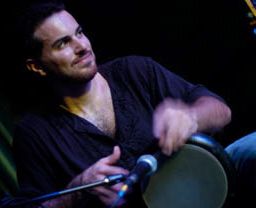 Artist: Bill Koutsouros [Philadelphia area, USA]
Website: http://www.animusmusic.com
Currently, Bill Koutsouros composes music for and plays the Bouzouki, Doumbek, Guitar, Oud, and the Riq in the Philadelphia based world fusion music and dance ensemble ANIMUS . His other projects include playing traditional musics with the Feztones, The Spice Route Ensemble (Strings for Schools/Musicopia), and The Sally Mitlas Orchestra among others. Bill also creates and performs world music geared for small children with Children's World Music Express. He also regularly teaches Middle Eastern percussion classes in the Philadelphia area.
Listen to Arapia [drum solo]:
---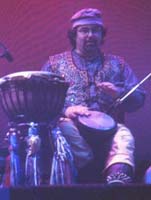 Artist: Daveed Korup
website: http://drumfest.com
e-mail: drumfest@yahoo.com
sound files forthcoming..
Esteemed member Daveed Korup, based in N. Carolina, USA, is a well known author and teacher, has been in the Goblet Drumming group since the first week, and has been a steady source of encouragement and education. Thanks Daveed. He has been doing a lot of good work lately with a variety of fine artists. Here's a recent drum solo, recorded live at the Citadel, Chareston, SC, January, 2005. Much more cool stuff is at his downloads page.
© Daveed Korup all rights reserved.
---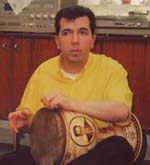 Artist: Peyman Nasehpour
GDG Moderator & Co-Founder Peyman Nasehpour is a lifetime student of Persian Classical music, from Tehran, Iran. Currently doing advanced work in Mathematics and Computer Science, he has recorded this solo tonbak piece specially for the CD project. He is moderator and co-founder of the Goblet Drumming Group at Yahoo.
Tonbak Solo #1 Listen
© 2002 P. Nasehpour All rights reserved
Peyman's bio and links to his many online works are here.

---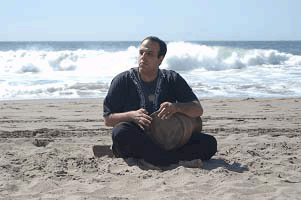 Artist: Shirzad Sharif - GDG member Shirzad Sharif Shirzad studied the Tonbak under the supervision of Ostad Bahman Rajabi in Iran.
Currently based in the San Fransisco Bay area, he is involved in a wide variety of experimental forms of music, blending Arabic, Persian, and Indian instruments with jazz and electronica, as well as playing traditional forms of Persian music. His group, Somma, has just completed a succesful East coast tour. By All means check out the Somma website for more audio files.
Here, in Real Audio is a Santur & Tonbak duet featuring Alan Kushan & Shirzad Sharif in Chahargah mode.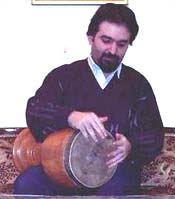 Artist: Shaheen Mohajeri
Our friend Shaheen is based in Iran, and is studying and documenting the acoustic properties of the tonbak. More info about his composition methods and a link to his website will be up here soon..
"Living Between Partials" , Shaheen created this, his latest piece, by anlayzing the sound of tombak and making a microtonal scale based on some of its partials. He then used the scale in the piece with cakewalk (pitch wheel) , and mixed it with others in magix, also changing tha tune of timpanies as the scale.
This is from Shaheen regarding this piece: It is based on different interval-o-rhythmic concepts: 1. a microtonal scale, using the intervallic relations between partials in the sound spectrum of an E-tuned tombak to make a 7 tone scale which its degrees are equal to some degrees of 144-EDO(144 equal divisions of octave) 2. Two microrhythmic scales with different time intervals ( based on my theory)
Shaheen continues, "Living in such mysterious and virtual worlds is a dream …. As a personal point of view , Microtonality and microrhythm are the soul , self and nature of music."
This next one is a progressive piece entitled "Rebellious Tombak".
Rebellious Tombak
© 2003 Shaheen Mohajeri all rights reserved
Here is another piece for tonbak & synth which is based on a whole tone scale, and which explores the tonal possibilities of the tonbak within a free metro-rhythmic view, "something like persian voice."
Expression
© 2003 Shaheen Mohajeri all rights reserved
Another piece is entitled "Titanic Hands", and it is dedicated to group member Eric Stuer (yours truly), who hurt his left arm badly early in 2003. (Thanks very much, Shaheen, but I think the phrase "Titanic" must be used to describe other hands than my own..especially considering the abilities of so many other esteemed members of GDG. All the same, its an excellent and adventurous piece of music.
Titanic Hands
© 2003 Shaheen Mohajeri all rights reserved
---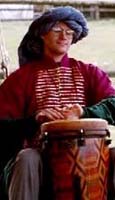 Artist: Peach Curry
Peach Curry is a folk band based in Atlanta, Georgia that plays music with a Middle Eastern flavor. Their lead drummer and Webmaster, GDG group member Kamuran, pictured here in Nov. 2002, sent us the sound files below for your listening enjoyment. Their Web site also has sound clips from their CD "Dancing With the Infidels", which has Eastern and Western music from the 10th century through the 20th century A.D. ...very cool... check it out...
Kamuran (also known as Rick Wallace) has a guide for doumbek players on his personal site which features notation and difficulty ratings for dozens of rhythms.
Ghawazee Jam (2:19) | Saidi Jam (2:34)
© 2003 Peach Jam all rights reserved

---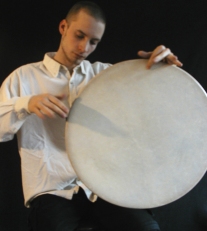 Artist: David Kuckhermann - David is a student of world percussion at the Rotterdam music conservatory. Although he is shown with a frame drum at left, this submission to the GDG project is deftly played on a REMO djembe. He also has music going on to the FrameDrummers group project. Visit that page for more..
LISTEN
© 2003 David Kuckhermann all rights reserved
David has a wonderful website, rich in free instructional video. Visit him at http://framedrums.de
---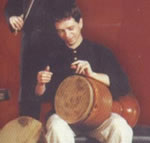 Artist: Kobi Hagoel
Born in Israel in 1962, Kobi Hagoel has studied percussion for many years, and is a member of several groups, including the East-West Ensemble, Kav Hatefer, and Esfahan, a group which specializes in Persian classical music and related styles. He has written a book documenting over 300 rhythms from various cultures, from North Africa and the middle east to the Balkans and Persia.
Kobi has recorded this solo specifically for the project, and has dedicated it TO HUMAN UNDERSTANDING. It is a freeform composition incorporating Balkan, Turkish, and Iranian rhythms.
Kobi's Solo #1
© 2002 Kobi Hagoel. All rights reserved
With Kobi's kind permission, we have kept these examples online of his various projects.
Kav Hafeter (Kav Hafeter is the area between Israel and the Palestinian area.) The group was established in 1998 by Kobi Hagoel, and is a blend of elements from the Middle East, North Africa, Greece, Persia, and India, mixed with Jazz and Rock.
Musicians: Kobi Hagoel - voice, darabuka, zarb, daf, udu , cymbals, and bells; Asigivati - guitar, oud, bazouki; David Oterman - bass, vocals, junk percussion; Ofer Ankori - saxophone, ney recorded 1999, Hamon studios, Israel.
Listen
©1999 Kav Hafeter, all rights reserved
And here a short Persian traditional piece featuring Kobi on tonbak (zarb) with the Esfahan Ensemble, under the direction of Menashe Sasson:
Gole Gandom
© 2002 Persepolis, all rights reserved
---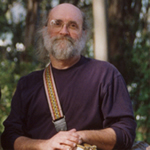 Artist: Jerry Summers (percussion) began playing Balkan music in the mid-80's. Since then he has also studied Middle Eastern, West African, North Indian, Balinese, Javanese and Brazilian music. He teaches in the Film/Video School at CalArts in Valencia, CA.

BUCHIMISH
composed by Dan Cantrell © 2002 all rights reserved
From The Toids CD "Ruupert Dances in Fins"
Musicians: Dan Cantrell, accordion; Ryan Francesconi, Bulgarian tambura, Bill Lanphier, bass; Lila Sklar, violin; Jerry Summers, percussion.
BUCHIMISH (Real Audio)
Note from Jerry: Buchimish (BOO-chih-meesh) is the generic name (like "waltz" or "fox-trot") for a Bulgarian dance in 15/16, subdivided 2222322. At a slower tempo, it would be felt as "7 with a long 5." But it's fast(!), felt and played as "4 with a short 3." Kind of like warped funk, and that's what make it so FUN.
---
Artist: Soundstream
Title: C-Saz
Visit the website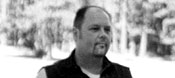 William McAllister of the world music group Soundstream is a member and frequent and welcome contributor to both the GDG and the Frame Drummers group at Yahoo. He is based in Las Vegas, Nevada, USA. This is one of our favorites from the Soundtream CD (a low res mp3 stream).
C-Saz
© 2002 W. McAllister, all rights reserved
---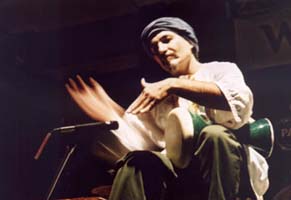 Artist - Jamal Mohamed A native of Lebanon, Jamal grew up in the Chicago area, and is now based in Dallas, Texas. Sting, Simon Shaheen, Mark O'Connor Poovalur Srinivasan, Giovanni Hidalgo, and Trichy Sankaran are among the many artists Jamal has performed with and his music has been featured on recordings for the television documentaries "Ramses the Great", National Geographic's "Lions of Darkness", and the film biography of Robert Johnson, "Can't You Hear the Wind", starring Danny Glover and Keb' Mo'. He has presented percussion clinics at Berklee College of Music in Boston, the University of North Texas, the American University in Cairo, Egypt, and the National Institute of Fine Arts in Mexico City. Jamal is currently a percussion instructor and dance musician at Southern Methodist University, Meadows School of the Arts, and performs with the World Music group "Brahma", the Middle Eastern Jazz ensemble "Beledi", and the percussion group "D-Drum".
Listen to a couple from his latest solo album 'Beledhi'.
Bosnia | Thunder and Tiny
© 2001 jamal mohamed, all rights reserved
---