Djun basket recording 01
Personnel/Instrumentation:
Eric Stuer: bushel basket drum, coffee can drum, water bottles
Peter Kasule: djembe
I was going to wait until this piece was finished to post it, but I now realize that it may be weeks or months before a truly complete version is available... I am therefore posting here one of several preliminary sketches that I have started, with more on the way..(Gotta love that Web)
I'm using ACID 4 and Sound Forge, and a delta series sound card from M Audio. We miked the djembes with one Shure SM57, from behind the tube, about a foot away.
Listen to a rough sketch..
© 2003 Eric Stuer all rights reserved
visit Percussion Things' Website.
See pictures of the event that inspired the seed files for this sketch: the 100th anniversary celebration of the Dallas Museum of Art, January 12, 2003.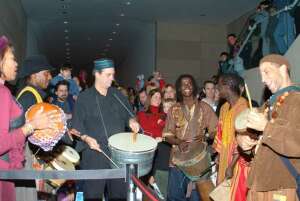 Arrival time at the museum was to be at noon and performance at one. It was SNOWING outside at 6 AM, a rarity in Dallas, and I was still awake, recording. The tuning of the djun basket was nice and tight, with the dry air from the gas heating, and it sounded good in the studio as the sun was coming up outside. I played two rhythms with the hands which became a foundation for this piece, although you may not be able to hear them much, since they are on the bottom of the mix most of the time
this one came first, at 103 bpm played entirely on the metal bottom of the drum..
this was the second one , played on the head..
here they are together, the foundation for the subsequent recordings.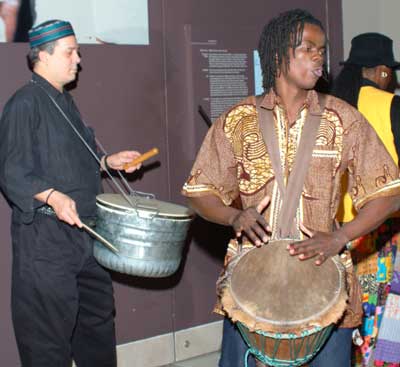 all photos © 2003 Deb Stuer all rights reserved
Within a day or two, before leaving again for college in Santa Fe, Peter came over and put down several djembe tracks, straight through, for me to choose from. Most of what is here is a traditional Malian rope strung djembe, and the solo stuff at the end is a Meinl floatune 12".
Peter! if you read this, hurry back! :-) (I believe we will be working again together this summer.)
There was a lot which we recorded that did not end up on this sketch...the loops are going to be wonderful.
I added crowd noise later, to evoke our walk through the museum, but to make it truly realistic, I would have had to layer in Gyavira, Bongo, and Len to boot.
I originally meant to show the delicate side of the basket, but it didn't work out that way in this sketch. there is a more delicate, all hand played sketch in the works, soon to be posted..Thanks for checking it out..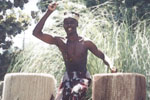 Peter Kasule is from Uganda, in East Central Africa, although he plays the West African djembe on this recording, he also enjoys playing drums from Uganda such as Ngoma and Engalabi.
Read More about Peter's Ugandan drums
Peter is a new member of the goblet drumming group at yahoo.