Percussion Things was honored to be chosen to do the musical procession for the Dallas Museum of Art's recent 100th anniversary celebration..
(Click on a thumbnail image at right to see the big version. You can use the 'back' button on your browser to get back here to see another.)
Personnel for the event included Director Len Barnett, Peter Kasule, Gyavira Kasule, Ricky 'Bongo' Carthen, and Eric Stuer. Arrival was set for noon, perfomance at 1, and it was SNOWING.
We have played in the DMA before, both in the Atrium and outside in the courtyard, but this was different because of the size of the crowd; the place was PACKED. Radio stations had been running ads profusely, and the museum celebration was extensive; for four days and nights, the museum had been open 24 hours a day, with many live performers and so on.
The procession began in the African section, on the third floor. We played in there for about 20 minutes and gathered a hundred people or so, then proceeded through the corridors to the stairway leading down to the museum's big room. Playing there for another 20-25 minutes, we then continued slowly down the long corridor which leads to the Atrium, where the remarks and speeches and so on were to take place. All along the way, we continued to gather people, so that by the time we got to the Atrium, it was a sea of a couple of thousand people.
All told, the procession took a little over an hour, and was chock full of cool moments for all, especially for us.
What a wonderful event, truly an unforgettable experience for the members of Percussion Things. Our sincere thanks go out to Bonnie, deputy director of the museum, to Amber, and to all the staff at the DMA for their excellent support. Of course thanks too to the many visitors who were there. It is YOU who made it most exciting.
other P-things clients include:
Dallas Arboretum
Anderson Consulting
Restland Funeral Homes
(sales rallies)
African-American Museum of Art
Dallas Museum of Natural Science
Irving Arts Center KidsArts Program
Imagination Celebration
National Black Mayors' Conference
African-American Heritage Celebration at Old City Park
Neighborhood Touring Program
Lamplighter School
Dallas Summer Musical's/Disney's
"The Lion King" Workshop
Dallas Black Dance Theater
Dallas Parks & Recreation Department
Pier 1 Imports, Inc.
Robb & Stuckey
Marie Gabrielle Restaurant
Collin County Community College District
SPCA of Texas Telethon
Goode, Farrell & Fulton
Volunteer Center of Dallas
The Links, Inc. - Ebony Fashion Fair
Cedar Crest Golf Course
Parkland Hospital
Aids LifeWalk
..and a long list of additional schools, churches, libraries, community centers, and private venues..
We can adjust the cultural focus and scope of our presentation to meet the needs of YOUR venue.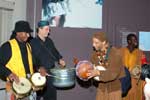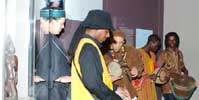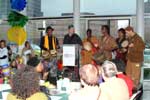 A piece is being recorded in the studio which was partly inspired by this event. see more.
wanna see more pictures? check out len's annual PERCUSSION PICNIC