Uglytips
slip on practice tips for drumsticks
They work..
This is one of those ideas that is so SIMPLE, you wonder why it hasn't been done before. It is simlilar to that ancient invention known as the shoe, a good alternative to carpeting the world with leather to protect one's feet.
There have been similar products in the past, actually, [in the 60's? 70's? I cannot remember exactly] but they used to slip off, and were too thin. Now thanks to the thicker walls and the smaller diameter of the aperture, we have the version that works. We tried them on super 5B, 2B, and even on some regal tip quantum 4000 marching sticks, which don't actually have much of a bead. The results were good. There is still a pair of quantum 4000's in the living room, by the coffee table, ready to go.
TO be fair, one must play ACCURATELY with them, or risk messing up the coffee table ;-). The shaft of that stick can still do a lot of damage if you accidentally nail the playing surface with it.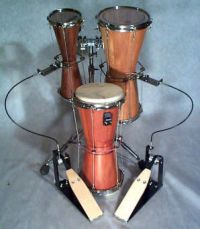 We've known Brad Miller online for several years, having met him when he first introduced his astounding foot pedal operated talking drums. They are used and loved by some of the top professional players here in the US.
Visit Brad Miller to buy some uglytips , or to see about his other products, at