When you use your imagination to make or find percussion instruments for yourself, you are following a tradition that stretches back thousands of years to the dawn of human music making. It's an essential part of being a percussionist.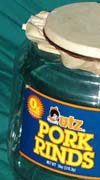 This is only a starting place for ideas. Think outside the box... or the egg, as the case may be..
Jason Bruns' Can Drum Orchestra - Jason Bruns, an L.A. area teacher, used some of our ideas for a 25 piece percussion orchestra. Read more about it.
Newest homemade drum: A featherlight plastic pork rind jar. Read more
Working with fishskin: A ceramic clay hibachi drum with dual fishskin heads..
Water Bottles About Playing Techniques
Coffee Can Drums Learn to make this portable and useful little drum.
Shakers - Understanding the Variables

Tube Drums - Beautiful, sonorous, inexpensive, and HOMEMADE!
Click for complete instructions..
sticks and beaters - Learn to use the right shape and material for the right sounds
Bass Instruments - Here's a quick and easy one that works.
The Djun Basket - Easy Project For a loud and portable drum

Metal Bowls - Etherial metal sounds from 'housewares' conjure an

atmosphere that is hard to get any other way.. have a look
Wooden Boxes - Inexpensive and rich in tone, a cigar box or other small wooden box can be a nice instrument.
What works? Use your EARS. The 21st century urban environment provides tons of cool sounding material resources, many of which we explore here. Also, if you don't know about Stomp, check them out. (the link is below.) You'll never look at a hardware store the same way again. Beautiful sounds come from things like copper tubing, bushel baskets, dowel, pipe, pvc pipe, coffee cans, vitamin jars, bb's, old keys, hub caps, brake drums, frying pans, you name it. If it's made of wood, metal or certain types of plastic, it will probably sound good.. Being round or hollow is an added benefit.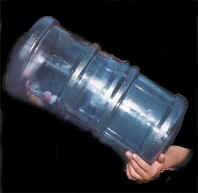 Your ears and your imagination are your handiest tools.
Certain plastics, especially polycarbonate resins, have incredible sonic properties, and in the right hands, a sparklett's bottle is as delicate and subtle as the finest UDU. We alter 'em, and here we tell you HOW, in "STU's Moondrums".