Eric Stuer is..
..a percussionist with a busy career which spans four decades.
...fluent on drum set in many styles.
...an avid hand drummer, playing percussion instruments from all over the world, including homemade and "found" objects.
...a composer, arranger, and electronic looping enthusiast
...a designer and facilitator of live rhythm based events
Since 1994, Eric has been involved in the drum circle scene, and has trained with Arthur Hull, with Kalani in his "Drum Circle Music" method, and in the REMO Health Rhythms protocol with Dr. Barry Bittman and Christine Stevens. .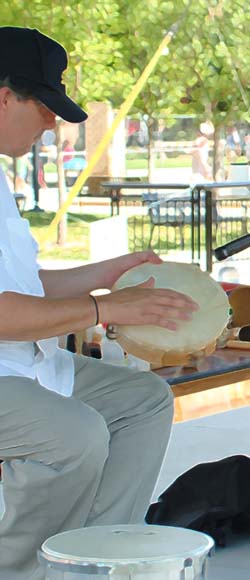 Eric's pro drumming career started with drum set, when he was in the ninth grade. By age 16 he was opening in Houston for national acts like Little Feat, Cheech and Chong, Big Mama Thornton, and so on.
Since then, Eric has consistently found quality work in the music business. During the course of his years at the drums, has found himself playing onstage with artists like Freddy King, B.W. Stevenson, David "Fathead" Newman, Gary Stewart, Johnny Paycheck, Vince Gill, Chuck Rainey, Charlie Daniels, Eric Tagg, Michael Gott, Hans York, Freddie Jones, Benita, Dallas Symphony violinist Tom Demer, and numerous other artists..
If you expand this list to include acts for whom he has opened, or with whom he has been on the same bill, it includes names like Garth Brooks, Clint Black , George Jones , Buck Owens, Billy Preston, B.B. King, the Coasters, the Ohio Players, Richie Havens, Average White Band, Andy Kaufman, Brooks and Dunn, Etta James, Trisha Yearwood, Leroy Parnell, Jack DeJohnette, the Meters, Dr. John, Tower of Power, Eddie Harris, Taj Mahal, Faith Hill, Tim McGraw, and so on..
Right now: In addition to RHYTHMWEB kids programs in schools and libraries, he frequently appears on the Addison TX supper club circuit, He also performs New Orleans and Cajun style music from time to time with Dennis Cavalier and Texas Gumbo. and since 2003 has been the Sunday drummer/percussionist at the Unity Church of Dallas.
Eric is a frequent member of the group Percussion Things, and serves as the editor and publisher of Rhythmweb.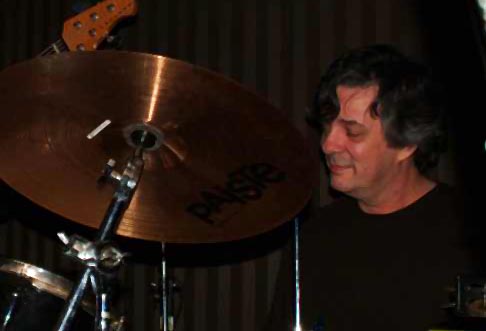 Venues: Starplex, Harrah's Cabaret Reno/Tahoe, Showtime TV, the Dallas Museum of Art, the African American Museum, The Dallas Museum of Natural History, the South Dallas Cultural Center, the Fort Worth Library System, Opening Ceremonies for the "Week without Violence", The Deep Ellum Arts Festival, the Fort Worth Main Street Arts Festival, Summer Solsticelebration 1996, "Hot Rockin' Country", the popular musical revue at Six Flags Over Texas (Conductor), and a long list of churches, schools, community centers, housing projects, recording sessions, festivals, nightclubs, private parties, etc.
ATTENTION: Eric and Deborah Stuer were lifted from the earth together in love. R.I.P. Their spirit will forever be engrained in us. We continue to study our parents craft and would love the opportunity to earn your business through Rhythmweb as we try to keep it online. We still offer all the same services and more. Please let us know how we can help.