Drum Circle Links
Thanks to grass roots musicians and enlightened health administrators for their brilliantly innovative fight against cancer:: DrumsForCures :: drumSTRONG! May 15th - 16th 2010

in North Texas, Gypsy-Djembe-Repair.com does good work on djembes, ashikos..

DRUM CIRCLE MUSIC Kalani is one of the top trainers of Drum Circle facilitators in the U.S. , having blended ORFF and other technologies into the model. DCM is loaded with very useful stuff..There are various trainings this coming year. Find out more.
Earth Drum Council -and in particular, their Drum Circle Guidelines - Jimi and Morwen Two Feathers are amongst the early pioneers of community drumming in New England.
AFROBEAT is an interactive drum and dance group in Australia, doing team building and interactive performance for schools and corporations..
My friend Jim Greiner and LP have an informative new site called communitydrumming.com .

John Scalici is doing fine work in Alabama
Rhythms of Life in Kansas blends in rhythm based movement such as hula hoops and frisbee training..
Toni Kellar & Roots to Rhythm are doing fine work in ohio
Check out the good folks at Drumcircles.net (Clearwater Beach, FL)
Open Circle Drums Marcus Chatfield has been building drums for some time now, and serves the drumming community at large. His work looks good: take a look
www.rhythmicartists.com - an online magazine that is dedicated to drummers, firedancers and bellydancers
Nihat informs me of a new culturally specific circle in London, which serves as an introduction to the percussion techniques and rhythmical systems of Mediterranean, Middle East and North African music. more info at caravansary.org
Cybele's - A fine retreat where notable frame drummers often teach and facilitate, co-founded by Amy Oak and Barb Pitcher
They are drumming up in Missoula Montana, with a full moon circle and several others.
Click for Montana Drum Circles [info from Dave Robertson, Montana djembe/dunun player]
Images from the Dallas International Festival Drum Circle, 2002
at the Majestic theater in downtown dallas
Images from the following Dallas International Festival Drum Circle, fall 2002
this was the one at St. Mark's Episcopal School
Sule Greg Wilson is doing excellent work in Arizona after many years in New York, DC, and elsewhere.
His site: DRUMPATH.NET . We also highly recommend his book, The Drummer's Path
Randy Brody is a highly respected member of the community, His company, Sound Directions, is based in New England.
Steve Parker and Active Rhythmology , at work in the UK
www.ExecutiveEdgeInc.com - Fred Ardillo - corporate trainer - TeamRhythmWorks: "Facilitating Your Desired Results through Rhythm"
Kathy Quain - Music therapist, educator, drum circle facilitator; San Fransisco based.
Ron Knight's DRUMLOFT in SanDiego..
Rhythmkids.com - Tom Foote & Co., based in Boston, is working with kids..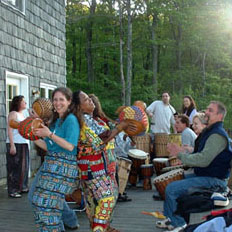 at left: This shot was taken at the Earth Drum Council Weekend in western Massachusetts. Among those pictured drumming here are Marilyn Middleton from the Bamidele Dancers and Drummers in western MA, Olympia Avignone from Long Island, Steve Trombulak from Village Green Drum Circles in Vermont, and Nestor Cintron from Amherst, MA
Village Green Drum Collective of Vermont - The scene is robust in Vermont thanks to these folks.
By all means check out Drum Brothers, a Montana based, family owned company committed to drumming, rhythm, and rhythm awareness. good content on this site..
www.ubdrumcircles.com - Christine Stevens, drum circle facilitator and REMO artist now in the Los Angeles area, does very interesting work..
Drumming for Heath and Wellness with REMO - click on "Health Rhythms" to see the official page for Christine and her fine collegues at REMO check out Paulo Mattioli's site, newly re-done. Paulo is another fellow who has greatly helped the drum circle scene over the last few years..a Paulo page is in the works here at rhythmweb..
Cameron Tummel is a wonderful trainer, facilitator, and musician in Santa Barbara, CA. He has also worked with Arthur Hull. The author and musican who founded www.drumcircle.com
Drums.org massive site, lots of info.
Drum Circles at Rainbow Gatherings
Jeff Salem, a Toronto based facilitator and pro drummer/clinician. This is another fellow we met at an Arthur Hull playshop.
Bob Bloom is a highly experienced drum circle facilitator based in Connecticut. Check out his site at www.drumming-about-you.com
Psalm Drummers - a worldwide network of people who use drumming to create unity and bring about change. Their core values are rooted in the Christian faith, and biblical teaching. A very interesting development..