Drum Circle at Rhytmweb
RHYTHMWEB Home | DrumCircle @ Rhythmweb | Join the Yahoo Drum Circles group
The 2002 Arthur Hull Dallas Playshop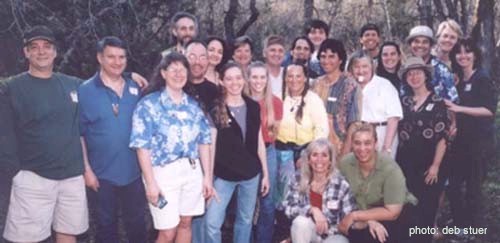 Easter weekend 2002 was a blast, at Briarwood Retreat near Dallas. Briarwood was really beautiful in the rain. It rained all weekend, from Friday afternoon until Easter Sunday about 11 AM, when everything cleared up and got bright and sunny in time for the Community circle.
(All Photos ©2002 deb stuer)
stu's note April 2002: "Arthur Hull is truly at the head of the pack regarding working with drumming groups of all sizes and levels of expertise. His techniques go beyond the boundaries of music, deep into body language, human nature, and reading group dynamics. He shares his knowledge unselfishishly; I got tons of good ideas this time. I first met Arthur in February of 1994, took my first playshop in '95, and I am glad to have been able to get back for a refresher course.
Other Relevent Rhythmweb Pages:
DRUM CIRCLE | DJEMBE | CONGA | KIDS | LESSONS | HOMEMADE PERCUSSION | BOOMWHACKERS
This page © 1996-2002 Eric Stuer All rights reserved
RHYTHM WEB™; and RHYTHMWEB™;
are trademarks, and any unauthorized use of the names is a violation of applicable law.