Find out about about the Egg Ipu or Juevon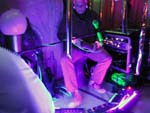 New! A Live LOOPING page, with Rick Walker, our new electronica correspondent. Get the scoop on equipment options.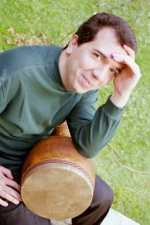 Persian Rhythms with the help of our correspondent in Iran, Peyman Nasehpour


Native American drumming:
an indroduction
by Tachini Pete of
Drum Hoops.com


In Uruguay, Candombe is a way of life.
FrameDrummer Group at Yahoo releases
collaborative CD!
Listen to a lullaby from the CD by Eliana Gilad
Visit the Original Bongo Page at Rhythmweb


We respect all decent, well meaning people of all faiths and cultural backgrounds. Hence our use of the rhythmweb symbol, once used by the HOPI tribe as a symbol of universal brotherhood.
May it one day be a reality.


Lovers of percussion & drums, drums, drummers, drumming, percussionists and musicians
REJOICE!
the web is ALIVE with interesting and vibrant rhythm cultures...
TanTan issue!
The TanTan Page - Continuing our love affair with Brazilian instruments, we take a look at the history & techniques, the ins and outs of this lightweight beauty with the luxurious low end.
Also Related : Patterns for TanTan - We show you video examples of basic patterns for this exciting instrument, including Samba based patterns, Partido Alto, and a couple of original ways to adapt the drum for use in drum circle and North American pop based applications.
Coming soon: SMALL CIRCLE DRUMMING using Brazilian Pagode instruments.
Also new the Zendrum page, thanks to David Kuckhermann. get the scoop on this amazing electronic hamd drum.
Reviews Reviews Reviews -
See our new reviews section, with product reviews including instruments, books, DVDs, and CDs.
New reviews this issue include:
New Orleans Drumming Resources - Second Line, the book from Antoon Aukes and a DVD from/about the New Orleans master drummers are the two best resources when learning about New Orleans drumming.
Djembe Dunun Drumset by Maarten Schepers This book is not only good for drumset players, but for all those interested in djembe and djun djun
Soli for Djembe, DjunDjun, drumset -as a companion piece to the review of Maartin's book, we present basic parts to SOLI, along with a possible drumset adaptation
Time Zone by Marla Leigh and Ken Shorley - a collection of 8 interesting duets for darabuka and frame drum, very well written and clearly demonstrated on video (DVD).
the Slapboxx from SlapDrum - Chris Nissen has created a new type of cajon
Uglytips - slip on practice tips for drumsticks that also serve an extra function or two
The Digitech Jam Man Want to get started with live looping? For practice or performance, this new looper is good for percussionists and rhythm event facilitators..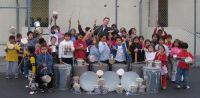 New in the homemade section: Jason Bruns, a teacher in the Los Angeles area, has used our can drum ideas to create a can drum orchestra for his elementary school students.
Bravo Jason! See a bigger picture of the Can Drum Orchestra
---

Niyabinghi Drumming - part of Jamaica's rich musical heritage; get the basics from Bektemba NNamdi Click for more.
---
Instrument Pages
TanTan - Berimbau - Bongo - Boomwhackers - Cajon - Conga - Djembe - Doumbek - Drumset - Engalabi - Frame Drums - Gourds - Homemade Percussion - Mallets - Taiko - Timbales -
Styles and Cultures
Africa - Asia - Carribean - North America - South America - Ireland - Persia (Iran) - Polynesia (NEW!) - Mid-East/North Africa (New!)
Lessons
beginning djembe exercises - freehand unison exercises - Counting Indian Rhythms - The Plena (with Jorge Ginorio) - Patterns for TanTan - The woodshed
Stuff
T-Shirts - boomwhackers - Peace Through World Music (the original website, brought over brick by brick from Geocities in 1996 like the Old London Bridge ;-)
As war rages on, musicians wage peace - and music
Read about Eliana, our friend and correspondent in Israel. More recently, she and her Palestinian accompanist have been playing healing music in the neo-natal ward of Meir Hospital in Kfar Saba Israel, for Arab and Jewish babies alike. Click here for more.
---
Interested in Bongos? check out these video examples of
El Bongo Changui (in Cuba:)
quick links to various friends on the WWWeb
List of Bongoceros | Chris Sampson - Houston | Hands OnSemble California | D'Drum - Texas | Brad Dutz Los Angeles | Eliana Gilad Israel | Jorge Ginorio (Puerto Rico, Dallas) | Peyman Nasehpour Iran | Jim Greiner California | Stan Levey - California. | Pete Lockett U.K. | Layne Redmond - Florida | Webmaster STU - Texas | Percussion Things Dallas | Paul Marshall Northern Ireland | Bob Bloom - New England USA | Arthur Hull - Santa Cruz | Kalani - Los Angeles |


(Web neutrality in the USA is currently in danger. Click to help.)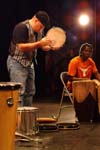 impressions of P-Things at the NTP showcase 2004. Puerto Rico Meets Uganda in Texas :-)
Superior stands for your drums here, at PercussionStands.com.
If you are a networking world musician with a website, you should be listed here.
E mail us.


we still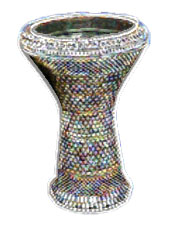 Music from the Goblet Drumming Group - The members of this Yahoo group have a wealth of skill and musical experience to their credit. They range widely in many ways, but they share a love for the music of Goblet shaped drums. This page explores some of the music created by GDG members from around the globe. Sounds are included; click for more.